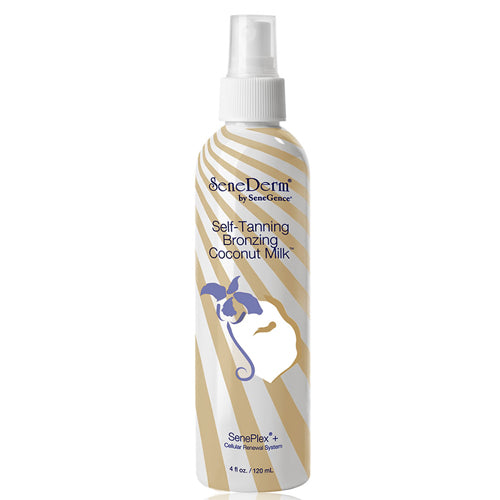 Self Tanning Bronzing Coconut Milk
Self Tanning Bronzing Coconut Milk


Pre-order
SeneDerm® Self-Tanning Bronzing Coconut Milk
Get a gorgeous, natural-looking golden tan with this unique spritz-on self-tanner that contains effective ingredients and moisturizers for a fabulous tan and anti-aging protection in one product.
Combines state-of-the-art tanning ingredients that provide a long-lasting and water-resistant tan
Luxurious coconut milk blend moisturizes skin
Spray application allows for even, streak-free coverage
Spritz on your freshly-back-from-the-beach healthy glow with SeneDerm Self-Tanning Bronzing Coconut Milk. Year round, you can look as though you spent all day basking in the sun, without exposing your skin to harmful UV rays. 
Sunless tans are beneficial because:
They are completely safe- no laying in the sun and exposing your skin to UV damage.
They take less time than a real tan.
You can spritz on specific areas or you can get a sunless tan all over.
Your entire body can receive the anti-aging benefits of SenePlex®

 

Complex, while you self-tan.
Regardless of the climate or season, you can be gorgeously golden.

The Science Behind the Product
DHA (Dihydroxyacetone)
The DHA that we use in our Bronzing Coconut Milk is derived from environmentally-friendly plant sources. It provides a water-resistant, long-lasting tan. DHA reacts with the proteins of your cells which, in turn, darkens the shade of the cell.
Benefits of DHA:
Natural and water resistant:

 

the tan gradually fades as the dead cells of the horny layer (the outermost layer of the epidermis) flake off.
Fast and long lasting:

 

the color change is visible within a few hours and lasts over 3-7 days. Repeated applications every 2 to 3 days maintain the intensity of the tan.
Light/medium/Dark - Control your tanning shade:

 

skin coloration is proportional to the number of applications and concentration of DHA.
Key Ingredients Listed online at Senegence.com
Directions for Use 
Exfoliate with SeneDerm® Body Scrub before moisturizing dry areas thoroughly with Advanced Hydration Body Lotion. Hold bottle six inches away from skin and spritz all over areas desired to darken. Take care to protect hairline and light eyebrows with SeneDerm®Moisturizer to avoid uneven color when using on face. Blend well with your hand (or mitt) to ensure even coverage. Let skin dry completely before dressing. Re-apply several times a week to maintain color.
Special Order Senegence
Lipcraze does not heavily stock Senegence Cosmetics other than Lipsense & Gloss. Items not in stock must be special ordered and can take from 2+ weeks to ship. Lipcraze will always ship what is in stock now and any other items will ship as the arrive.
---
---
More from this collection